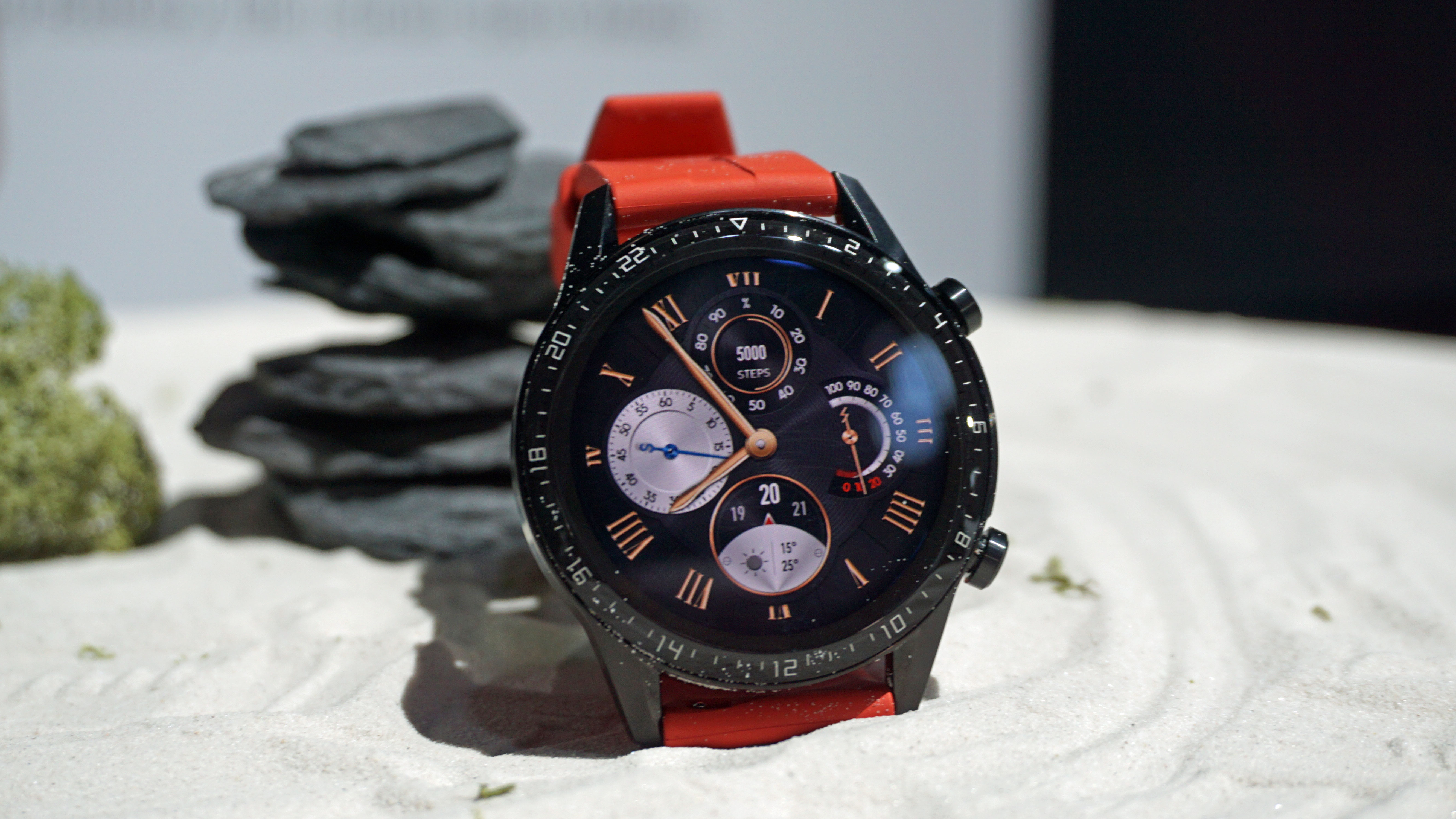 Huawei's latest wearable – Huawei Watch GT 2 series – is a noticeable upgrade from last year's model, and is a great choice for anyone looking for a comprehensive wearable that offers both a pleasing aesthetic and plenty of features. It continues the series strong points, namely a strong design and excellent battery life, while also bringing new features to the table – all powered by Huawei's first wearable chipset, the Kirin A1. It uses Huawei's homegrown LiteOS and includes comprehensive fitness tracking for various activities.
One of the biggest changes on the Watch GT 2 46mm is the addition of a built-in microphone and speaker allowing you to take calls straight from the watch. Another big change is that it's powered by Huawei's proprietary Kirin A1 chip. This chip is specifically geared towards wearables and is capable of ultra-low power consumption, meaning you'll get the best possible battery life out of the wearable.
In the HUAWEI Watch GT 2 46mm case, with continuous operation you can get a battery life of up to two weeks. And that's with both the intelligent heart rate monitor and call notification functions enabled. We've tried it ourselves and that's exactly the kind of battery life you can expect, which is quite impressive. This is great news for active people who are looking for a wearable that can continuously track their fitness activity without having to worry about charging it frequently.
Speaking of fitness, the HUAWEI Watch GT 2 has extensive health monitoring and management capabilities baked-in. There's a continuous 24/7 intelligent heart rate monitor on board, stress tracking, and detailed sleep tracking with sleep cycle graphs that give you deep insights into your sleeping patterns.
When it comes to exercise, the HUAWEI Watch GT 2 is a great companion to take on training sessions. There's also 4GB of storage on the watch, so you can store music for offline listening. When you get moving, the watch will automatically detect a workout and start tracking activity. There's a built-in GPS for tracking outdoor walks and running, and a barometer to measure air pressure. The watch supports 15 sports modes including indoor and outdoor training, as well as swimming and common workouts on gym machines.
The HUAWEI Watch GT 2 comes in two sizes – 42mm and 46mm. You can choose which size you prefer depending on your own preference and style, but both have vibrant circular OLED displays measuring from 1.2 to 1.39-inches. They are encased in an all-in-one 3D glass screen that creates this wider, boundless display. No matter which size you choose, they both look gorgeous.
The Watch GT 2 inherits the best from traditional watch craftsmanship, with a round watch case and smooth glass over the display, as well as a dial etched into the frame and two crown-like buttons on the side. The silicone strap has a smooth texture that's easy to wipe when it gets wet, and feels very light and comfortable against the skin.
You can buy the HUAWEI Watch GT 2 right now across Huawei experience stores and select retailers in the UAE. The 46mm Sport edition we looked at today costs AED 849. There's a classic version for AED949 and Elite models will set you back AED1149. Huawei is also running a special bundle offer for new HUAWEI nova 5t and Watch GT 2 Orange Color at a price of AED 1,999 starting October 31st.
Source link